Events
If you have any Events you would like share, please email the information to Tony Gould Events Secretary and he will arrange for it to be put on the website.
To find the full list of events held by the VSCC please click on the link below
Date: Saturday 21st July 2018
A unique motoring event for all pre-war car owners. Enjoy the relaxed atmosphere among old friends and new.  Prescott is owned and operated by the Bugatti Owners Club and the event is being hosted by the Vintage Minor Register.  Untimed climbs will be available throughout the day for all pre-war cars – saloons included.  No racing license, helmets or flameproof overalls are required, there is no scrutineering and you can take passengers including children up the hill.  
Pre-War Prescott  is going to be huge this year.  We have a wide range of visiting vintage aircraft this year.    
There will be at least 8 Hornets taking part. with the WHSC having their own stand in Wolseley Way!! Come and visit us
Location: Prescott House, Prescott, Cheltenham, Gloucs GL52 9RD
The Shuttleworth Collection Old Warden Aerodrome Nr Biggleswade Bedfordshire SG18 9EP
Tel +44 (0)1767 627 927
Date: 11/12 August 2018
New for 2018 Vintage Minor Register Pre War Shuttleworth - Free entry for pre war cars for the De Haviland Moth Meeting.
Location: Valognes, South of Normandy, France (Cherbourg Peninsula)
Date: Friday 24th to Sunday 26th August 2018
We have an  invitation to participate in the Arthur Beane Rally
This annual event is organised to commemorate the life Arthur Beane, a British fighter
 pilot, shot down over France in 1943. His Spitfire remained, with the pilot, buried until 
1992 in a field belonging to Eric Petit's father who donated a piece of land where a  
memorial was erected in his memory.
Eric organises a small car rally each year, open to all, which includes visits to different 
locations on the Cherbourg Peninsula. A maximum of 25 mostly pre-1960 cars enjoy a
 leisurely weekend, which this year includes the Saire Valley, two pretty ports, St Vaast
 and Barfleur and the island of Tatihou, all on the east coast. On the Sunday, entrants are 
invited to meet at the Memorial and partake in a glass of wine in his honour followed by
 a lunch at Chateau Crosville close by.
 Of course the event includes sampling local produce, sea food and other delights, which
 is organised for entrants. The modest accommodation is booked by Eric and your
 accommodation can be tailored to meet your own travel times, number of days and so on.
 Full details of the organised (but only loosely) part of the trip will be available in April
 and bookings will close by the middle of June or before if the numbers reach capacity.
 Specific details will be forwarded when available.
 In the first instance if you wish to be kept informed and are interested in joining a
 contingent on this informal, very friendly short tour please contact Jack Peppiatt by email. c&c@whsc,co.uk
 Jack  will circulate information as it becomes available.
 Information of a general nature can be obtained by emailing Roger Banks
 at This email address is being protected from spambots. You need JavaScript enabled to view it. and at http://rallyearthurbeane.overblog.com/
A short history of Lieutenant Arthur Haggie Beane
 In 1992 the crash site, where his Spitfire aircraft went down, was located in northern
 France, on the edge of Rauville la Place, a village in Lower Normandy. Lieutenant
 Beane's remains were identified and he was finally laid to rest on 3 February 1993,
 with full military honours, in the St. Charles de Percy War Cemetery, Normandy.
 He was a student at Charterhouse School, in Surrey, from 1931 to 1936 and
 Brasenose College in Oxford.
 Lieutenant Beane served with 805 Squadron in North Africa, and then became an
 instructor on Royal Navy's HMS 'Heron'. Temporarily attached to 165 (Ceylon)
 Squadron RAF, he was killed on active service when he was shot down in his
 Spitfire Mk.IX MH905 (SK-G) .
 A memorial to honour his memory was erected near the Spitfire crash site; it was
 dedicated on 8 May 1995 and is maintained by pupils, ex-pupils and others
 associated with Charterhouse School.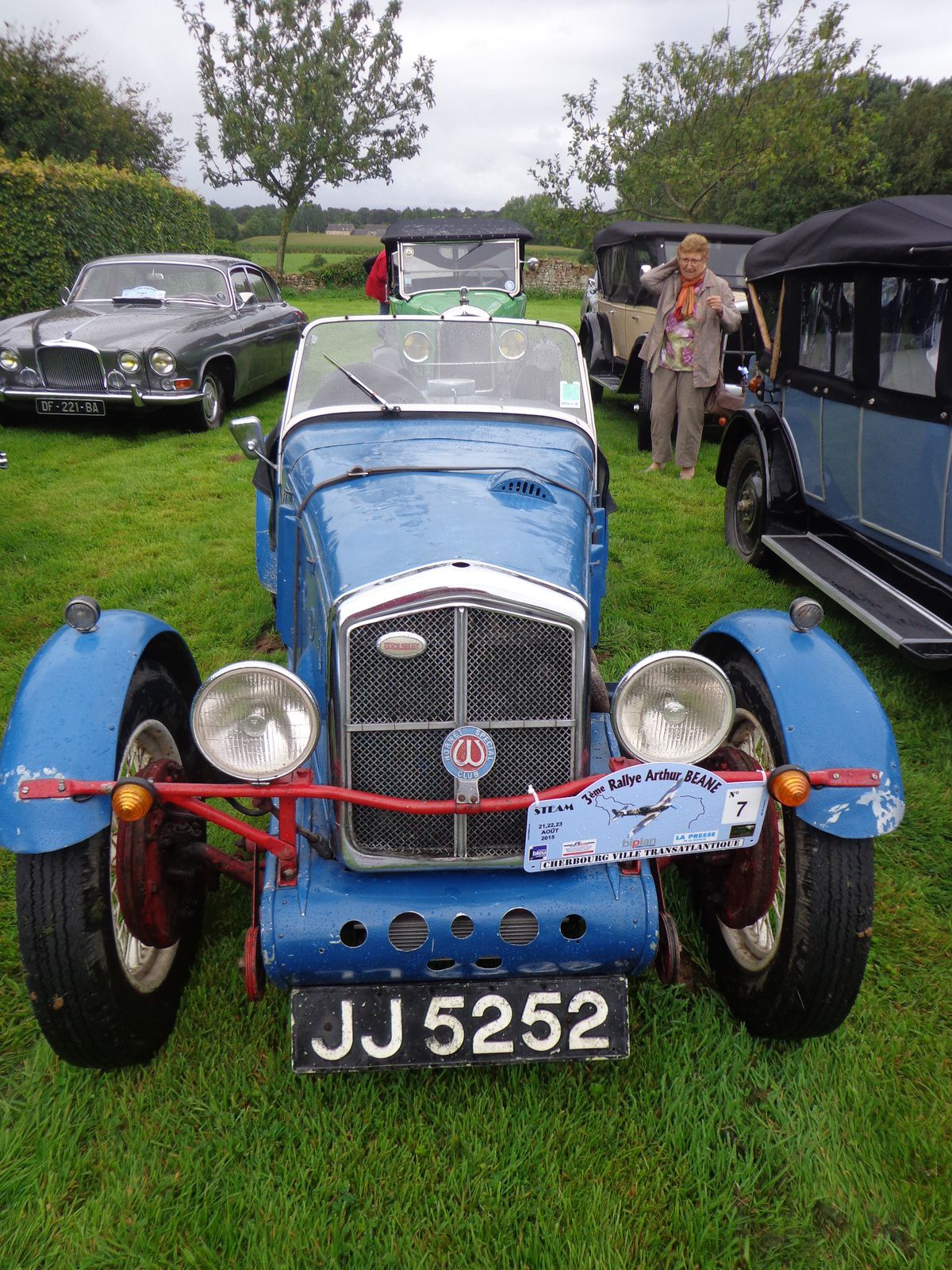 Date 1st & 2nd September 2018
Location: Beaulieu Motor Museum
The iconic and world-famous International Autojumble is the biggest outdoor sale of motoring items this side of the Atlantic and this year returns for it's 50th event!
With over 2000 stands at this signature Beaulieu event, each one groaning with all kinds of vintage and classic motoring ephemera, it is often said "If you can't find it at Beaulieu it doesn't exist!"
International Autojumble is regarded as the place to locate and purchase even the most elusive motoring parts, accessories, automobilia, literature, tools and clothing.  There is something for everyone - and plenty of bargains to be had!
Visit the WHSC Stand no 269/270 in the green Field where a warm welcome and a glass or cup of something awaits, and a chance to rest those weary feet.
https://www.beaulieu.co.uk/events/international-autojumble/
Location TBC in Germany
Date 1st & 2nd September 2018
Members are organising a Seber Weekend in Germany over the weekend of the 1st Sept in Germany. John will be attending and it would be good to have WHSC members from the UK and Europe attending.
Please contact Jack Peppiatt or Simon Eames for further details.
c&This email address is being protected from spambots. You need JavaScript enabled to view it. or This email address is being protected from spambots. You need JavaScript enabled to view it.
Location: Kop Hill, Princes Risborough, Buckinghamshire HP27 0LB,
Date: Dates 15th / 16th September  2018
Kop Hill is a steep climb just outside Princes Risborough, a small market town nestling at the foot of the Chilterns in the heart of rural Buckinghamshire. It rises 304 feet in 3,848 feet, with a gradient of 1 in 4 at its steepest.
At the turn of the 20th century, Kop Hill was just a dirt track up an open scarp. Its surface was loose, stony, hard and bumpy, with a nasty rut at the top that could tear off motorcycle tyres, and a hump that launched many drivers and riders into the air.
Today Kop Hill has a smooth tarmac surface with gentle bends, and its verges are lushly wooded. It starts with a gradual slope but by the halfway mark reaches a 1 in 6 gradient. The road then eases off before getting even steeper at 1 in 4 for a short section just before the summit, showing the power and grace of some of the classic machines in our revival and challenging the older cars and bikes simply to make it to the top. Kop Hill Climb's unique combination of beautiful location, historical significance and family-fun day out has made it a major fixture on the historic motor sport calendar, with many thousands of visitors raising tens of thousands for charity each year.
http://www.kophillclimb.org.uk
Contact Tony Gould for further information Email: This email address is being protected from spambots. You need JavaScript enabled to view it.
Or Simon Eames SE Area Secretary  This email address is being protected from spambots. You need JavaScript enabled to view it.
Location: The Nec, Birmingham
Date: 10th to 12th of November